Sadie Lioness
Sadie Lioness arrived at the Animal Park at the Conservators Center with three companions – Mufasa Lion, Kiara Lioness, and Ugmo Lioness – all of whom were originally part of a large number of big cats living at a breeding facility in Ohio.
Sadie was a remarkably large lioness with an astonishingly big head and mouth, and a gait reminiscent of a bulldog. But it did not take long to realize that far from being intimidating, Sadie was incredibly gentle and affectionate.
Sadie constantly asked for attention from her devoted caretakers. She particularly loved chin and cheek rubs, and she often pressed the top of her head into her enclosure wall to allow for the best possible ear and scalp massages. She was always reliable to start a good "oofing," and the other lions often followed her lead to thrill us with an entire compound chorus.
Sadie was diagnosed with terminal cancer in August of 2012, and showed few signs of her illness for many months. She passed away peacefully with her pridemates looking on and surrounded by her human friends on January 6, 2013.
Sadie was adored by Mufasa and doted on by Ugmo. She was truly a marvelous lion.
It's difficult to lose one of the animals we love, and it's especially challenging to say goodbye to one with such an oversized personality. We know Sadie left a huge impact on visitors, volunteers, and interns during her time with us, and it brings us enormous solace to know that she will be remembered by many.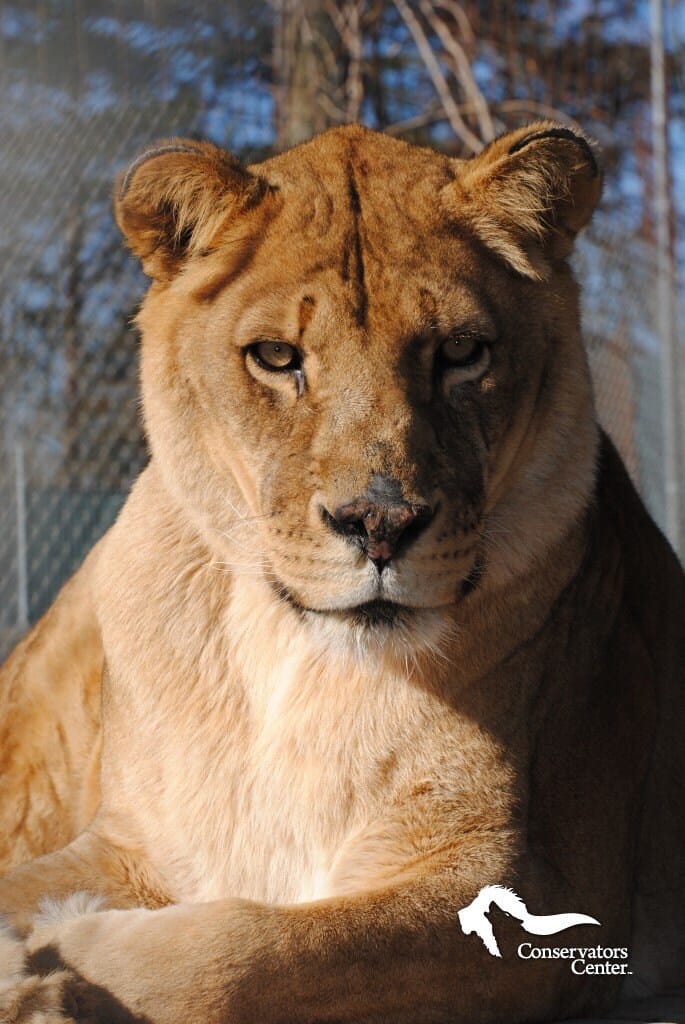 Serabi Lioness
When Serabi Lioness arrived at the Animal Park at the Conservators Center from a neglectful situation, she and her pridemates were scarred, scraped, and bruised. Despite her tumultuous beginnings, Serabi quickly recognized that her new home was one where she would be protected and cared for, and she transformed into a beautiful and dignified (yet occasionally goofy) lady.
The relationship between Serabi and her first love, Sam Lion, was stunning. His affection for her was truly striking, especially when considering what a gruff and macho lion he was. When it came to Serabi, he was tender hearted and attentive—and he ensured that she ruled the pride.
When Sam passed away, it was clear that Serabi mourned deeply for him. We were very concerned about how the pride's dynamics would work moving forward. Over time, we integrated Matthai Lion into the pride, a transition that was smooth and beneficial to each lion. While Matthai could never fully replace Serabi's first love, she quickly became attached to him and the two were rarely found apart.
Because of her deep bond with her males and her preference for spending the majority of her time with them, Serabi often seemed more aloof than our other lionesses. She carried herself with great dignity, pausing occasionally for the silly moments when she would lick and knead the air, actions induced by Matthai's tender grooming. She epitomized the title of Queen, both in her carriage and in her position as head of the pride.
Ra Lion
Our resident "Fabio," Ra was an absolutely gorgeous lion with a long, flowing mane that ripples in the breeze as he perches on top of his platform tower surveying the compound.
Ra and his siblings, Thomas, Adeena, and Willow, were born at the Animal Park at the Conservators Center after their parents and 12 other lions and tigers were rescued from a breeding facility in Ohio that was finally closed after receiving citations for more than 900 violations of the animal welfare act. All four cubs were snowy white at birth and looked more than a little bit like lambs, but their coloration changed to the normal sandy brown as they grew. Ra lived with his brother Thomas, as a coalition, until we lost Thomas to acute illness (October, 2016.)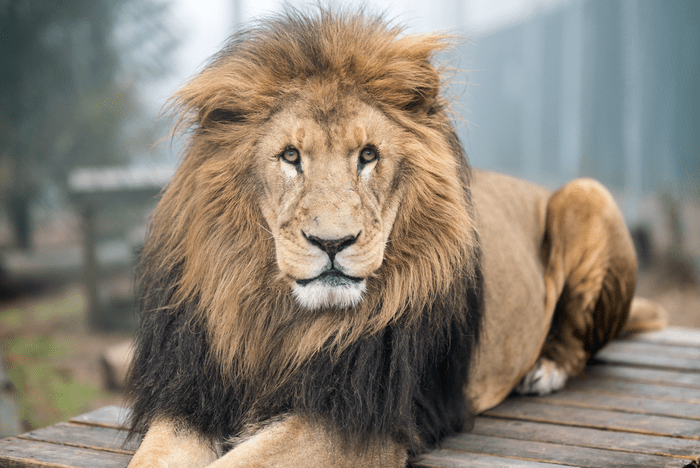 One Halloween our decorations included a life-sized witch mannequin (nicknamed "Aggie the Haggie") who was introduced to many of the animals as a form of enrichment. Ra was fascinated by this strange creature and spent quite a long time examining her through the fence. Ra also loved anything mechanical, and closely followed the activity of our tractor and lawn mowers as well as any planes or helicopters that fly overhead.
Text written by the Animal Park at the Conservators Center.